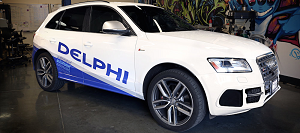 Burney Simpson
Delphi Automotive is fast becoming one of the most important firms in the driverless transportation field, providing both the safety technology and the marketing savvy to convince government regulators and the driving public to shift to autonomous vehicles.
Delphi (DLPH) made a splash at the Consumer Electronics Show in Las Vegas in early January with its Delphi Drive autonomous driving technology, all packaged in an Audi 2014 SQ45 SUV.
Delphi Drive uses an NVIDIA Tegra K1 chip powered system with 360-degree radars and LIDARS, sophisticated GPS, and collision detection systems. Delphi's Radar and Camera System (RACam) and 360-degree sensing programs provide vision and are connected to advanced driver-assist programs.
Online pub Mashable cited Delphi Drive as one of the Best Tech of CES 2015, declaring that "Driverless cars are real, they're here and, if they get a license, can really drive themselves."
Delphi's triumph at the CES was due in part to its partnership with Ottomatika, a spin off from Carnegie Mellon University. Last November Delphi announced it had made an undisclosed investment in the Pittsburg-based firm.

Shortly after the CES, incoming CEO Kevin Clark said at the firm's 2014 earning's conference call with analysts that sales of its advanced safety technology, much of it software, will grow 50 percent a year for each of the next few years, though that is rising from the comparatively small $160 million it generated in revenues last year.
"Software is becoming a bigger component of our product portfolio, without a doubt," said Clark, who is now the firm's COO.
And that software is vital to the safety electronics products, categorized as active or passive, that Delphi markets to OEMs. Passive products include airbags, an electronic satellite sensor, occupant detection systems, and a seat belt reminder.
The active products include adaptive cruise control (ACC), collision mitigation, electronically scanning radar, integrated radar and camera systems, parking guidance, lane departure warning, and rear and side detection.
The ACC includes a customizable feature for drivers that Delphi says expands its use to stop & go traffic. It offers an electronically scanning radar with a forward collision warning, brake support and headway alert.
A collision mitigation system uses its camera, vision control module and electronically scanning radar to warn drivers of collision risk, and will automatically put on the brakes if the driver ignores the warning.
An electronically scanning radar combines a wide mid-range view and a high-resolution long-range view, allowing the system to detect vehicles in adjacent lanes in addition to viewing pedestrians and vehicles across a traditional horizontal sight line.
The RACam combines radar sensing, vision sensing and data fusion to offer ACC, lane departure and forward collision warning, low-speed collision mitigation, and autonomous braking.
In the related commercial-vehicle market, Delphi's Connection Systems offer off-the-shelf and custom designed electrical/electronic connectors and connection systems.
Delphi is a massive full-service automotive parts manufacturing company with more than 160,000 employees, 126 wholly-owned manufacturing sites, and 15 technical centers in 32 countries. It is headquartered in Gillingham in the United Kingdom's South East region.
Originally formed in 1994 by GM, Delphi became independent in 1999 but an irregular accounting scandal led to a bankruptcy filing in 2005. That led to reductions in plants, products and staff, and the stock's delisting by the New York Stock Exchange.
In 2009 investors forged a new firm, and in 2011 Delphi Automotive PLC emerged with nominal assets and no liabilities.

That Delphi has been on a roll. It reported full-year 2014 net income of $1.4 billion on net sales of $17 billion, a rise of 3.4 percent from 2013. Net income for fourth quarter 2014 rose 13 percent to $344 million, or $1.16 per share, from $298 million, or 97 cents per share, in the fourth quarter of 2013. Investors sent Delphi stock to a 52-week and all-time high of $78.94.
The major challenge facing Delphi is the slow growth of auto sales in North America and Europe. In part, Delphi is working to expand its Asia business, and it already has a strong foothold in China. The firm is also addressing this challenge with its continual development of  its driverless and connected vehicle product set.
For now, investors, OEMs, and consumers are applauding Delphi's moves.
This is another in Driverless Transportation's profiles of the publicly-traded firms that make up the D20 Stock Index, the only index that tracks the major companies in the autonomous driving industry worldwide.