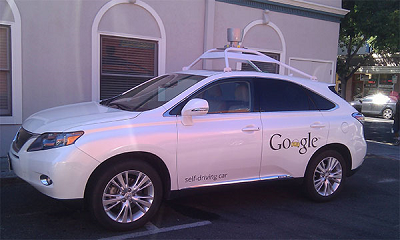 Jennifer van der Kleut
It looks like Britain may be getting its way.
After a big push from British government to get Google to come across the ocean and test their self-driving cars there–after it came out that Google was mulling over new cities to expand testing– it appears Google may actually be eyeing the United Kingdom.
News reports this week quote Google Alphabet's chairman Eric Schmidt as saying that the tech company is seriously evaluating the viability of testing in Britain.
The Telegraph reported back in December that Google had actually had five meetings with the UK's Department of Transport over the past two years about autonomous cars. The Telegraph said Sarah Hunter, head of policy for the company's "experimental division" known as Google X, said the company appreciated "the non-regulatory approach being taken in the UK, [which] places the UK in a good position and could be seen as an example of best practice."
According to The Telegraph, driverless cars can be legally trialled on public roads anywhere in the UK, as long as they are covered by insurance. Currently, public trials are being conducted in five UK areas: Milton Keynes, Greenwich, Bristol and Coventry.
In addition, a driverless and connected-car "living lab" launched in Greenwich recently. The UK Smart Mobility Lab will reportedly function as an "open innovation environment" where companies and researchers can design and develop self-driving and connected-car technology, test it in a realistic environment, and then work to integrate the finished product into the public.
International Business Times UK quotes Isabel Dedring, deputy mayor of transport, as saying, "It is still very early days, but we would be keen for trials to happen in London whenever Google are ready to move them into other countries."
Google is currently testing its self-driving cars in and around Mountain View, California, where the company's headquarters are located, as well as in Austin, Texas and Kirkland, Washington. In February, permit applications revealed Google was looking to expand testing to four new cities, one of which turned out to be Kirkland. The other three cities have not yet been revealed.