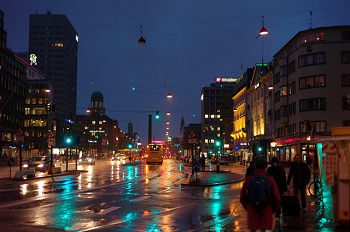 Burney Simpson
It's green lights all the way baby in parts of Pittsburgh due to the implementation of a decentralized traffic system overseen by a Carnegie Mellon robotics professor.
The adaptive traffic control signal system from Surtrac uses a combination of traffic theory and artificial intelligence to follow traffic flow on a real-time basis.
The signals at intersections are controlled by a camera and computer system that watches the traffic coming from every direction, said Stephen F. Smith, research professor and director of the Intelligent Coordination and Logistics Laboratory in the Robotics Institute at Carnegie Mellon.
Surtrac can change the lights to green when there is no cross-traffic coming, and allows nearby intersections to communicate with each other so drivers can hit a series of green lights when the timing is right.
"It sets a phase system for green lights, and sends the information to other intersections," said Smith, who recently presented his findings at the 9th University Transportation Center Spotlight Conference in Washington, D.C. organized by the Transportation Research Board.
Surtrac's decentralized signal control contrasts with traffic oversight in most urban areas where signal timing is determined by central planners using studies of past traffic flow.
The system has been installed at 50 intersections in Pittsburgh's East End neighborhood. Since it began in 2012, the project has cut travel time by 24 percent and waiting time by 42 percent, according to office of the Pittsburgh mayor.
That efficiency has led to a 21 percent reduction in emissions, said Smith who leads Rapid Flow Technologies, a Carnegie Mellon spin off. The university owns a piece of Rapid Flow as it seeks to commercialize Surtrac.
Rapid Flow is also researching ways to detect and measure the frequency of cruising for parking spaces, and building a system that measures the performance of surfaced road networks.
Smith would like to expand the Surtrac program to integrate vehicles, bikes, and pedestrians to better shape the flow of all traffic.
Pittsburgh has asked Rapid Flow to research whether Surtrac would work in the busy North Shore area, home to major sports stadiums Heinz Field and PNC Park, along with the Andy Warhol Museum.
Photo: Green traffic light when it's raining by Sigfrid Lundberg, 2014.