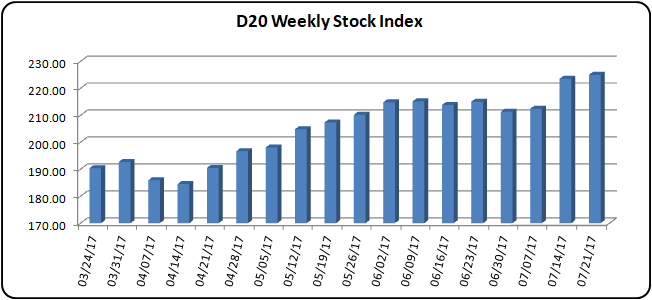 A legal victory for Renesas Electronics led the way as 11 propelled the Driverless Transportation Weekly Stock (D20) up this past week.
The D20 gained 1.64 points to close at 224.97, beating the Dow, which lost 0.3 percent, and the S&P 500, which rose 0.5 percent and closed the week at 2472.54.
Renesas Electronics Corp. (TSE:6723) gained 7.6 percent to close at ¥1090 per share.  Renesas announced that it won a patent infringement lawsuit brought by Zond LLC, and that it has developed a kit for its R-Car system that supports cocoro SB's "Emotion Engine."
Visit the Driverless Transportation D20 Stock Index page to learn more about it and its component stocks.
Up-and-Comers:
Lyft is launching a driverless division.  It announced that it just signed a lease for a large facility in Palo Alto and expects to hire hundreds of people to fill it. Lyft will continue to work with its major investor, General Motors and partners Waymo, JLR and Nutonomy.
Driverless truck startup, Embark, has raised $15 million in an initial round of funding. Its funding announcement coincides with an announcement of a partnership with heavy truck manufacturer, Peterbilt.  Embark has prototyped its neural, net-based deep learning approach on a Peterbilt 579 Truck.