Burney Simpson
This is the first in a series of articles profiling the stocks that make up Driverless Transportation's D20 Stock Index, the only index that tracks the major publicly-traded firms in the autonomous driving industry worldwide.
All eyes are on Mobileye.
The Israel-based designer and developer of what it calls camera-based Advanced Driver Assistance Systems (ADAS) is being watched closely by investors, original equipment manufacturers (OEMs), competitors, and those following the progress of the autonomous vehicle industry.
Mobileye emphasizes the safety aspects of its software and related technologies that are designed to reduce the risks of traffic accidents and save lives. Once installed, its proprietary software algorithms and EyeQ system-on-chip program interpret a vehicle's visual field to anticipate possible collisions with other vehicles, pedestrians, cyclists, animals, debris and other obstacles.
Mobileye says its products also "detect roadway markings such as lanes, road boundaries, barriers and similar items, (and) identify and read traffic signs and traffic lights." Mobileye expects to launch its EyeQ3 system early this year.
Mobileye (MBLY) is considered by many to be the only AV industry pure-play stock because its products are developed nearly exclusively for the autonomous transportation market. Its products are integrated into the vehicles of 18 global automakers including BMW, Chrysler, Ford, GM, Honda, Hyundai, Jaguar, Nissan, and Volvo. About 78 percent of Mobileye's 2013 revenues came from vehicle OEMs, and the company estimated its products were installed in about 3.3 million vehicles worldwide.
The company filed a prospectus last year with the U.S. Securities and Exchange Commission in the lead up to its Initial Public Offering at $25 per share in the U.S. in July. MBLY stock rose to top $60 in October but has since come down to earth, and now trades in the $40 range.
In the third quarter of 2014, MBLY reported a net loss of $13.1 million on revenues of $34.7 million, up 70 percent from the same period in 2013. While revenues keep growing, the company has for much of its history operated at a loss, and has an accumulated deficit of nearly $101 million, primarily due to continuing investments in research and development. MBLY is scheduled to report its 2014 fourth quarter and annual results in February.
Many investors remain optimistic about the long-term payoff in the use of driverless transportation technology. Mobileye points to a number of success stories, including its 2013 deal with GE Capital Fleet Services to fit its collision avoidance system into the firm's trucks operating in the U.S. and Canada. Mobileye technology is also in 800 trucks of the Ontario, Calif.-based ICEE Beverage Co., and in about 80 percent of the cabs in Las Vegas.
Fleets are an early sweet-spot for firms marketing autonomous driving technology because they are looking to reduce such collision costs as vehicle repair and replacement, higher insurance fees, driver injury, and the loss of business caused by an accident. Mobileye claims that drivers using its system also learn safer driving techniques.
The deal with GE will be fulfilled with after-market products. Other customers in this space include the fleets of C.R. England, Werner Trucking, Dart and Pride. Mobileye claims that more than 120,000 vehicles have installed its after-market products, and estimates that there are as many as 1 billion autos on the roads today that could be retrofitted with its technology. About 22 percent of Mobileye's total revenues in 2013 came from its after-market sales.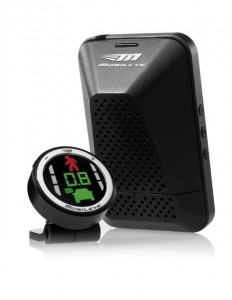 In the direct-to-consumer space, Mobileye markets on its website the Mobileye 560 Collision Avoidance System at $849 though it must be installed by a trained technician. The 560 offers forward collision warning, pedestrian collision warning, lane departure warning, speed limit indication, headway monitoring and warning, and intelligent high beam control.
Mobileye is categorized in the technology group of the D20 Stock Index, which also includes Blackberry Ltd, (BBRY), Iteris, (ITI), KVH Industries (KVHI), Nokia Corp. (NOK), and NVIDIA Corp., (NVDA).